Aboveground Pools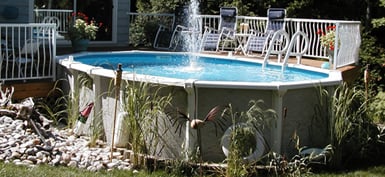 Above-ground, pools are a popular option in today's economic climate. Affordable and fun, an above-ground pool is a perfect spot to relax, unwind, and beat the summer heat. At Rintoul's we offer many different sizes and pricing packages to suit your budget. Easy to install, an above-ground pool will have you swimming in no time! Not a "do it yourself" kind of person? If you prefer, our experts can do it all, quickly, professionally, and with our usual guarantee of satisfaction. Call, or come in and visit us today to get started!
At Rintoul's we also offer on-ground pools, a more affordable option than having
a full in-ground pool.
RADIANT POOLS
Stairs for an above ground pool

Other options available

call or visit us today for more details

(519) 376-5858

689 10th Street West

Owen Sound, Ontario

Why Radiant?
Incredible Features & Benefits
The Radiant pool offers homeowners the most incredible features and benefits that you won't find in any other pool. Unique manufacturing technology, limitless installation options, incredible warranty protection and energy savings that, over time, allow this pool to pay for itself. No other pool on the market today can offer this complete value-added pool package. It is truly the smart backyard investment.
It is simply brilliant.
BUYER'S GUIDE FOR INCREDIBLE ADDED VALUE
Features
Radiant Pools
Others
2" Structurally Insulated Walls
Yes
No
R-10 Insulation Value
Yes
No
Energy Efficient and Eco Friendly
Yes
No
Every Installation Option Available
Yes
No
Non-Prorated Lifetime Warranty
Yes
No
Unlimited Transferable Option
Yes
No
Warranty Against Winter Damage
Yes
No
True Resale Value
Yes
No
Still in use after 50 years
Yes
No
100% Made in the USA
Yes
No