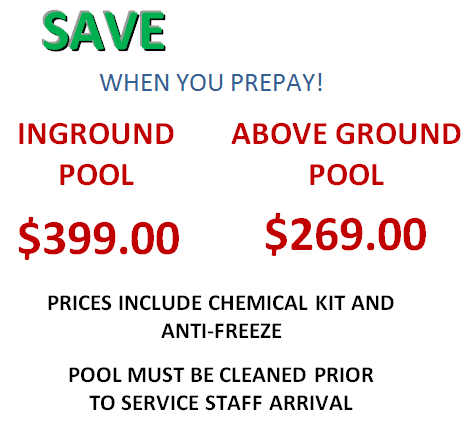 Service includes:
*Pump water down to below returns
*Blow out lines
*Add antifreeze to pump and lines, if requested
*Install winterizing plugs
*Remove ladder and diving board
*Remove pool lights; return fittings, pump, and skimmer basket
*Roll up solar blanket
*Turn off heater
*Add winterizing chemicals to pool, kit includes: 1kg shock, 1litre Algaecide
*Install winter cover and water bags
*Note and alert customer of repairs needs

Pool must be cleaned, vacuumed
and drained to 1" below jets prior to our service staff arrival.
Service includes:
Blow out lines
Drain pump and filter
Add winterizing chemicals and anti-freeze, if requested
Install winterizing plugs

Additional Pool Cleaning - $140.00 per hour (chemicals extra)
Cartridge Filter Cleaning - $125.00
Salt Cell Cleaning - $60.00
Hot Tub Service/Closing - $80.00 per hour

Book and prepay your pool closing before
August 31st 2014 and don't pay the taxes!!