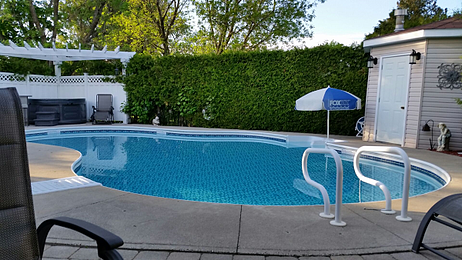 A backyard oasis!
Here's a comment from Gary S:
In this day and age, it is hard to decipher all the information that is available on the Internet. I found your website easy to explore and very informative. I was really surprised at how quickly you responded to the form I filled out for your spring special on inground pools. Friends of ours recommended we come to you guys, Rintoul's had installed a pool for their family a few years ago and they rave about the good times they have had.
After talking with Phil for only a minute it was obvious we had come to the right spot. His knowledge and experience are so complete that they put us at ease right away. He had all answers to our questions. Was able to guide us through in great detail the process from getting the building permit to the point he was giving us the show and tell on the pool.
We were worried about looking after the pool but after a short conversation with the service advisor at Rintoul's, we were able to set up a schedule for biweekly service and opening and closing of the pool by their team. What a relief, we just enjoy the pool and your team looks after us.
Thanks so much
Gary S


Reply Thanks Gary for your comments. In business, it's often just the bad news we hear so when we get a positive we really appreciate it and always share it with our staff.
Happy swimming!
Phil Rintoul
Here are some reasons why people choose Rintoul Pools and Hot Tubs for their backyard living.
The history of Rintoul's Pools and Hot Tubs is knowing that they have the experience and knowledge to do the best job and they try to exceed the customers' expectations with quality workmanship and doing it right the first time. Rintoul's Pools and Hot Tubs has been in the pool and hot tub industry for over 45 years and have a reputation for excellent service after the installation is done.
Rintoul's Pools and Hot Tubs take the time to educate and answer questions about the process no matter how big or small the job is. Every job is handled with care for llong-termresults that are enjoyed by the whole family. The Rintoul's team will give you valuable tips and share the latest technology available to make your backyard dream come true,
We will educate you and your family on proper maintenance and chemical balance. If you can't remember, rely on one of our team members to help you out. Remember maintaining your investment gives you years of enjoyment.
Rintoul's is devoted to improving health and lifestyles through the benefits of relaxation, stress relief, and the creation of a backyard environment for family fun and fitness.
Rintoul's Pools and Hot Tubs customers get excited about every opportunity they have with their family and friends to enjoy the backyard in the warmer months and know that they need not worry about their investment as they are in good hands at Rintoul's Pools and Hot tubs. What are you waiting for?
Do you have more questions? you can email the Rintoul team at info@rintouls.ca. Other than email, we also have two ways that you can get the answers you need regarding your backyard oasis. Drop by our Owen Sound location and we will be more than happy to answer questions. Or by telephone, if you prefer. (519)376-5858.
We look forward to serving you, so please let us know how we can help.
Regards,
Phil Rintoul