Incredible Features & Benefits
The Radiant Pool offers homeowners the most incredible features and benefits that you won't find in any other pool. Unique manufacturing technology, limitless installation options, incredible warranty protection and energy savings that, over time, allow this pool to pay for itself. No other pool on the market today can offer this complete value-added pool package. It is truly the smart backyard investment.
You are making a significant investment in your property. Demand real value for your money. Choosing the pool that is right for you is the only thing that matters.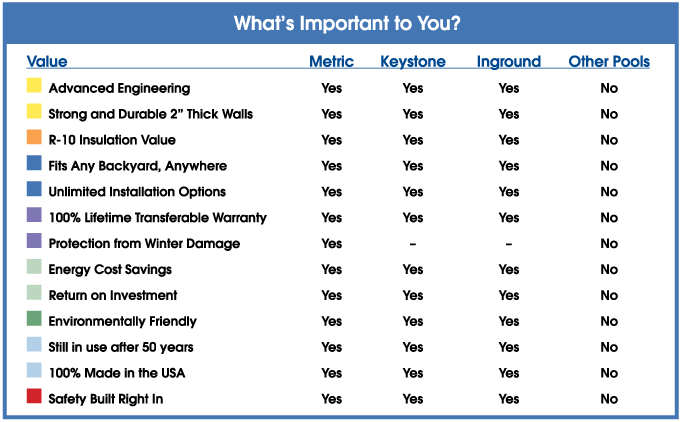 Environmentally Smart: Make An Eco-Splash
It's time to think smart. It's time to invest green.
It is important now, more than ever, to consider how your individual consumer choices affect climate change. Radiant Pools' R-10 insulated wall panels make it the only pool on the market that is truly energy efficient and environmentally friendly.
It's how you want to buy, smart and responsibly. You can add value to your property and your life without adding to your footprint. Radiant Pools are constructed using Expanded Polystyrene (EPS) and aluminum. EPS foam contains no ozone damaging CFC's or HCFC's and is 100% recyclable.
Aluminum is the most commonly recycled post-consumer metal in the world. The history, and success, of the aluminum industry is based on its ability to promote energy conservation and waste reduction within the industry itself and among American and Canadian consumers.
Radiant Pools is a proud member of the US Green Building Council, a national coalition of leaders from across the residential and commercial building industry working to promote building materials and practices that are environmentally responsible, profitable and healthy.
The aboveground pool with the inground attitude installs just about anywhere!
Today, residential lots offer many landscape challenges. With the superior wall construction of the Radiant Pool you have options. The incredible Metric Series Pool, with a 52" wall height, can be installed aboveground, inground, and semi-inground on sloped terrain. The Radiant Metric Series Pool fits any backyard and any budget. No other aboveground pool offers you this type of versatility!