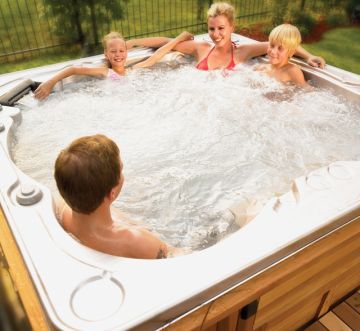 For centuries, people have flocked to natural springs to take advantage of the 'curative' properties of bathing in its hot water. Today people around the world continue to agree that nothing seems to sooth the aches and pains of a hard day's work like a hot soak.
While natural hot springs are tough to find, modern homeowners can easily bring this experience to their backyards with a hot tub. Buying one, however, can be overwhelming. But if you do your homework, you can ensure you'll buy the hot tub that best suits your needs.
There are five basic things to consider when buying a hot tub:
Comfort and Design
Reputation
Insulation
Massage Capabilities
Ease of Maintenance
Comfort and Design
Above all else, you want your hot tub to be comfortable. Check to see if the hot tub seats are ergonomically designed to fit your body's natural curves. You need to make sure you fit comfortably into the seats in order to get the best possible soaking and massage experience. Don't be afraid to get in and test out the seats. If a seat is not comfortable when it is dry, odds are it won't be any more comfortable when it is wet. You should also take a close look at other design features of the hot tub. For example, is there multi-level seating, does the hot tub have a large enough foot well to accommodate multiple bathers and are there safety steps to enter the hot tub? Even minor features should be studied. For instance, if the hot tub comes with pillows, ensure they are comfortable and easy to remove and clean. Check to see if there is a place to put an ice bucket or place drinks. No detail is too insignificant.
Reputation
Look for hot tub manufacturers that have been in business for awhile and have a proven record of reliability. Visiting your local LeisureScapes dealer for advice is a good place to start. You can also ask friends or family members with hot tubs about their experiences with particular brands.
Also, investigate whether the product they offer are covered by a reasonable warranty. A good warranty would consist of a 10 year structural warranty, 5 year acrylic surface and 3 year parts and labour warranty.
Insulation
This factor is significant because of its link to energy efficiency, an important consideration for any home-owner. First and foremost, look for a hot tub that is approved by the Commission for Environmental Co-operation (CEC). Investigate how long it takes for the hot tub to pump out and filter 100 percent of its water. The less time this takes the more energy-efficient the hot tub will be. Look at models that use low-amperage filtration pumps. A good hardcover can also provide added insulation and energy efficiency.
Massage Capabilities
Likely the most appealing element of a hot tub is its massage capabilities. When added to soothing feel of hot water, it can truly make or break your hot tub experience. Through it may be tempting to go for the model with the most jets, more is not always better. Instead, look for jets that are strategically placed in the most optimal spots. For example, foot jets are often overlooked, even though they can provide one of the best possible massages.
Customization is also a much sought-after feature when it comes to jets. A model with optimized hydraulics will ensure an even flow of water is sent to each jet for a smooth, comfortable massage.
Ease of Maintenance
No matter what hot tub you choose, you need to make sure it is easy to service. When it comes to hot tub maintenance, there are two primary factors you need to address - filtration and disinfection.
Filtration. In a hot tub, dirt can only do two things. It is either light enough to float on the surface or heavy enough to drop to the bottom. When assessing a hot tub's filtration capabilities, be sure to ask how long it takes to filter 100percent of the water. Also check to ensure the skimmer is sufficient. Does it provide enough filtration to remove debris and does it have a floating door to skim the surface of the water? also ask the salesperson whether the hot tub has a suction side filter or pressure side filter. The suction side filter offers less expensive filtration, but is not as effective ; It will only filter 50 percent of the hot tub water. Conversely, pressure side filters are more expensive, but since 100 percent of the water passes through the filter, all of it can be cleaned.
Disinfection. To keep your hot tub safe and pleasant to use, you will also need to disinfect the water regularly. Ideally, look for a hot tub that has an in-line chemical feeder as opposed to a floating dispenser. If you choose to use an ozone system, which is designed to reduce your overall chemical requirements, look for a model that uses an injection system. If you opt for a saltwater bromine system ask your local dealer to help you set it up properly to best suit your needs. Once you understand the system, it will be easy to use and makes for a very pleasant soaking experience.
Go Forth And Shop
Although looking for a hot tub can be confusing at times, you can make the process less complicated by narrowing down your search criteria to the five areas above. With a little preparation ahead of time, your hot tub buying experience will be a stress- free, enjoyable experience.... the way it should be.
Comfort and Design